Stupid Gravity Press
Welcome to Stupid Gravity Press, where that particular force of nature isn't just a good idea, it's the law.
While gravity might be stupid, we know you're not. We offer informative but entertaining how-to pet health and behavior manuals (reference books) written by pet experts with a sense of humor. We also offer paranormal fiction and nonfiction. Be patient; soon we'll have kick-tail science fiction.

Stupid Gravity Press, LLC is an independent Texas-based book publisher for people who want happier pets. We don't want our readers to grow catatonic while reading our books. Don't expect dry and boring prose here. We know people are more likely to learn when they're laughing, so read our cheeky, even nerdy paperbacks. Stupid Gravity is dedicated to producing publications that offer responsible pet owners well-researched cutting-edge health and/or behavior information in a casual, entertaining format. Formed in July 2016, we two award-winning titles with many more planned
Cat Scene Investigator: Solve Your Cat's Litter Box Mystery by cat behavior expert, Dusty Rainbolt, ACCBC, won the 2017 Cat Writers Association Muse Medallion for Best Behavior Book.

Ghost Cats: Human Encounters with Feline Spirits, Revised Edition,  is also a Muse Medallion winner. It was just just released in October 2017. Cat Wrangling Made Easy: Maintaining Peace and Sanity in Your Multicat Home will go on sale in February 2018.
Stupid Gravity is interested in new submissions, but does not accept unsolicited queries. We don't click on unknown links or open attachments. Please email StupidGravityPress(removethis)@gmail.com with a short query letter to test our interest before sending a full bore proposal. (When you email us, please delete (removethis) from email address. We have all the Russian brides we need right now.)
Our nonfiction interests include: Pet-related care, health and behavior, environmental enrichment, spiritual books, do-it-yourself, animal ghosts, gift books, anthologies, adult coloring books.
We will consider cat-related novels if they are amazing.
We have no interest in: Non-animal related novels, children's picture books, novellas, and erotica. Please no My-Cute-Little-Pet-Died-A-Horrible-Death books because Xanax has simply gotten too expensive.
We will post submission guidelines soon.
Go forth and buy our books so you may become enlightened. Live long and prospurr.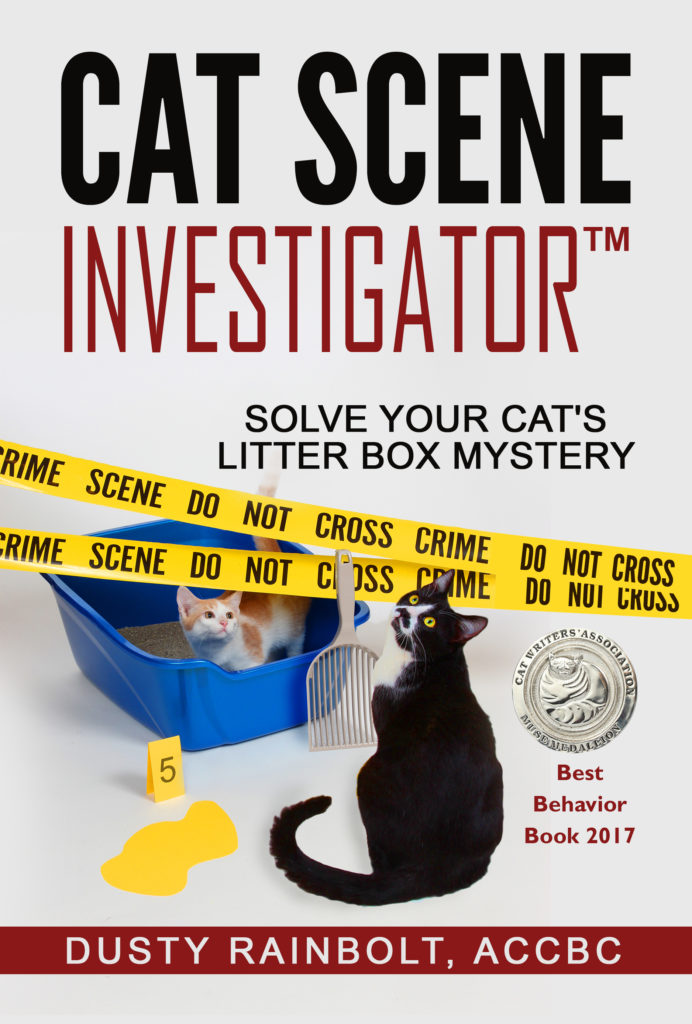 By Dusty Rainbolt, ACCBC
Inappropriate elimination is actually inappropriate communication. ~ Dusty Rainbolt
Inappropriate elimination is the most vexing problem cat owners face, but there's good news. Dr. Carlo Siracusa, chief of the animal behavior service at the University of Pennsylvania School of Veterinary Medicine, says, "Among behavior problems, housesoiling is the problem with the best prognosis if the owner is educated."
Enter Cat Scene Investigator: Solve Your Cat's Litter Box Mystery, the consummate inappropriate elimination guide. CSI approaches kitty crime scenes through the eyes of a detective to help determine your cat's motive and the remedy.
Award-winning behavior author Dusty Rainbolt uses humor and cutting-edge science-based research to bust feline myths and help you devise a practical strategy so you and Fluffy can live happily ever after.
This comprehensive handbook includes:
· Veterinary and behavioral breakthroughs that will help you understand your cat's litter box needs
· Setting up a litter box your cat will want to pee in
· Insight into illnesses that can cause or contribute to litter box mishaps
· Finding the culprit in a multipet home
· Determining whether your cat is peeing or marking
· The effects of stress or fear on feline litter box behavior
· How to stop urine marking
· Techniques to remove odor from soiled flooring
"I now have a comprehensive tool help to save cats' lives: This superb, long-overdue book!" ~ Louise Holton, Alley Cat Rescue founder, community cat rescue pioneer
"This a must-read book for every cat owner. Read it to determine and correct the cause of housesoiling, or better still, to prevent the problem entirely." ~ Dr. Marty Becker, America's Veterinarian