Taz Is Found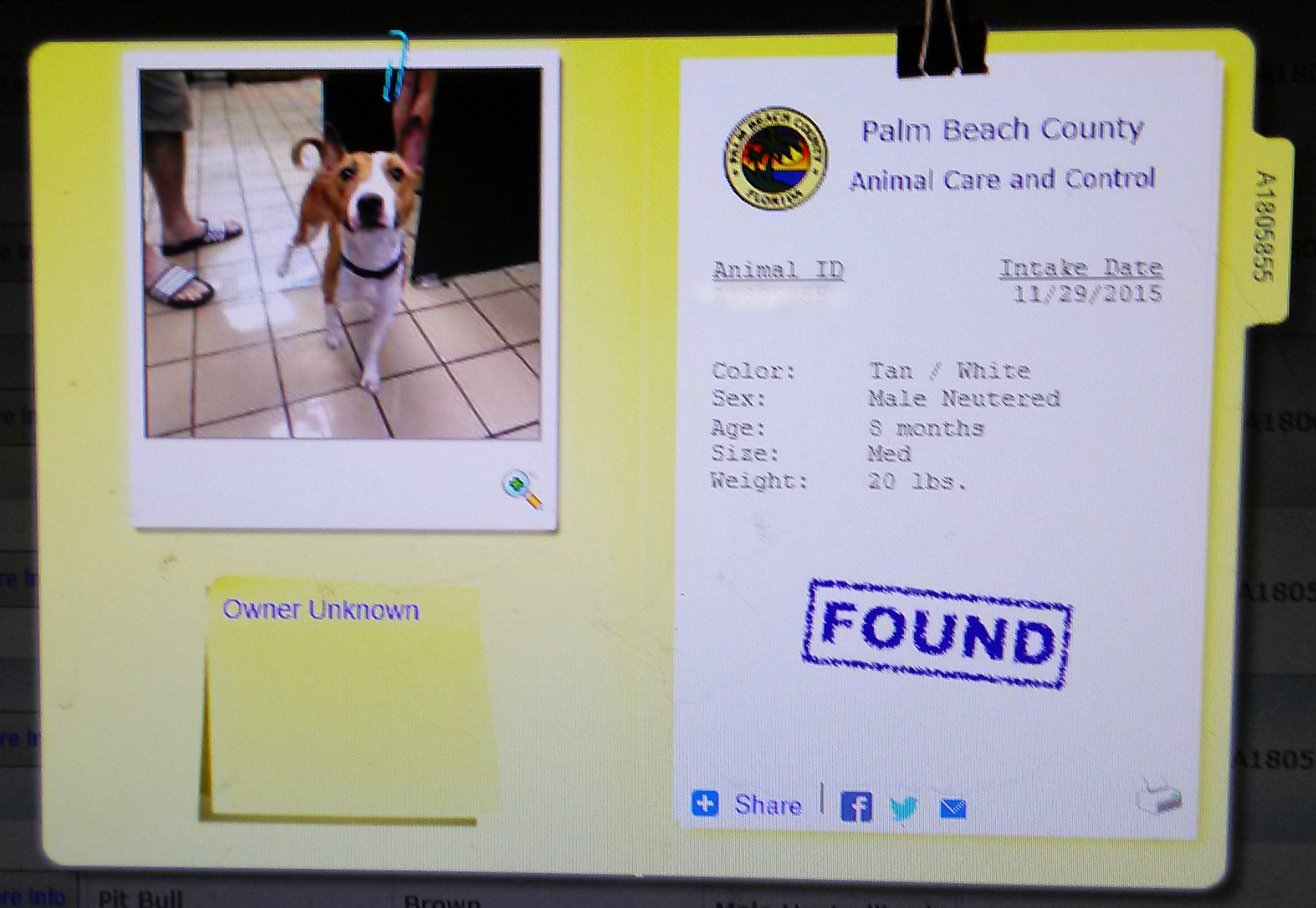 11-29-2015 Robyn Reichert: Please pray for the return of Taz, safely without harm soon so that he can find a new loving home. He is missed dearly.
11-29-2015 Thank you so much for your prayers for Taz, He was found today, Someone brought him to Animal Control in Palm Beach. Stay tuned, I'll share more later Thank you. Never give up. That is the main thing. Never stop looking, praying, posting, sharing, contacting others!
Originally he was living in  a crate and needed to be rescued due to neglect and skin condition. Foster parent picked him up and being skittish, he ran out of the house , leash and all, after being spooked by foster's son. He ran far away and foster parent posted flyers everywhere. Contacted Animal Control etc. Days went by, no sightings. I  noticed the flyer on our community mailbox and contacted foster. She apparently lived right down the street from me. I made up a bunch of lost dog flyers, and contacted many Facebook sites, sharing the flyer. I walked around the neighborhood and continued to keep in contact with the foster parent. The foster parent originally wanted to get the dog , so that she could transport him to a rescue that could help Basenjis. Unfortunately, things would take a turn for the worse. The next day, I contacted her and told her I was putting up more flyers and she was doing the same. Today, she contacted me to say the dog was at animal control.  When she got him she invited me over to meet him for the first time. He was going to be transported to the new rescue. She said that he had been caught after Thanksgiving, ran away from whomever took him, and the second person took him to animal control. Long story short, he is on the way to a Basenji rescue now hopefully to lead a better life.