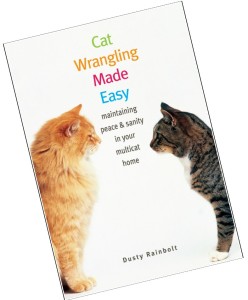 Since your cat didn't come with a maintenance and repair manual, this is the closest thing you will find, unless you live in a auto parts store. Whether you  have two, three cat or a small herd, things can sometimes go wrong with the furry little buggers.
Cat Wrangling is the complete handbook for successfully blending feline family members.
Living with multiple cats requires a lot of planning, cleaning, discipline and diplomacy, and no one knows it better than Dusty Rainbolt, a writer who knows firsthand how complicated life can be living with multiple cats.
It's available on Kindle at Amazon.com.
Chapters include:
*Making Introductions
*Maintaining the Litter Boxes
*Dealing with Dinnertime
*Interspecies Relationships
*Rescuing Another Kitty
*and much more!
Easy to use and illustrated throughout, this is the only book a multi-cat owner needs.