In addition to all of those books, Dusty is constantly burning the midnight oil, much to her hubby's dismay, writing regular and feature articles.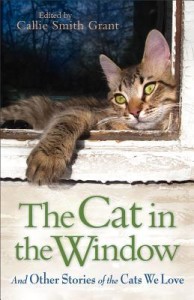 How An Abandoned Cat Changed My Life
Appearing in The Cat in the Window and Other Stories of the Cats We Love, edited by Callie Smith Grant
Revell 2013
$12.99 (Kindle $7.99)
You may have heard of The Accidental Tourist. I was The Accidental Cat Lady. I lived with my first cat, a sweet black Siamese-mix named Houston. I had no plans to increase my feline family, but Someone Else had other plans. A pregnant cat, abandoned in the snow at a Dallas apartment complex, unleashed kitty chaos  and turned my world upside down, forever. She and her little wrecking crew also gave my life new purpose that continues even today.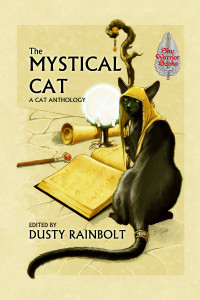 One Spoiled Rotten Cat Lives Here
The Mystical Cat: An Anthology of All Things Feline, edited by Dusty Rainbolt
Sky Warrior Book Publishing, 2013
Kindle only $4.99
Meet Fluffy, an average farm cat. This Maine Coon-mix is normal in every way except he stands 12 feet tall. Forget the "Beware of Dog" sign. At the Bagley ranch, trespassers need to watch out for the cat.
This other-worldly collections includes the award-winning story, Cat Out of Time by Dusty's dear friend, Bev Freed.
Other authors include Bev Freed, Lyn McConchie, Dana Bell, Mary E. Lowd, Karen Comming, Janiss Garza, Connie Wilkins, Karen Pullen, Frog and Esther Jones, Robert D. Brewer, Pat Sachs, CJ Ruby, Cynthia Ward, Sam S. Klepfield, Bryan Fields, Livia Funicci, S,A, Bolich, Alma Alexander.