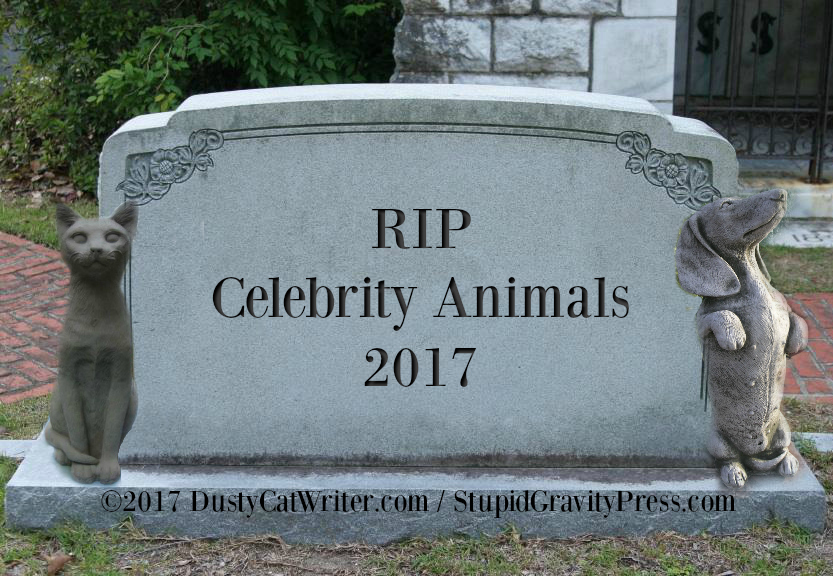 Last week I listed the celebrities, scientists and cool people who left behind their earthly shell in 2017. We lost not only human celebrities, we also said goodbye to numerous animal superstars. From wrong-way snails to an influential feline politician, here's the list of 2017 notable animal deaths.
January
Jan 6 Tilikum (December 1981 – January 6, 2017), nicknamed Tilly, was a 35-year-old captive orca, literally a killer whale. He was involved in the deaths of three people: a trainer at the now-defunct Sealand of the Pacific, a man trespassing in his tank at SeaWorld Orlando, and a SeaWorld Orlando trainer. Tilikum died from a bacterial infection.
Jan 10. AJ. Oldest aardvark in the United States has passed away at the Philadelphia Zoo. The 28-year-old male aardvark died from age-related heart failure.
Jan 12 Tuna, percussionist for the Rock-Cats of the Amazing Acro-Cats. A rescue kitty, she joined the group in 2011. She lost her battle with oral cancer.
Jan 17. Colo, the oldest living gorilla in captivity. (December 22, 1956 – January 17, 2017) A western gorilla, she was also known as the first gorilla to be born in captivity anywhere in the world. She celebrated her 60th birthday less than a month before her death. The Columbus Zoo reported that Colo died in her sleep.
February
Feb 9. Packy, a 54-year old Asian elephant. (April 14, 1962 – February 9, 2017) He was the first elephant born in the Western Hemisphere in 44 years. At the time of his death, he was the oldest male Asian elephant in North America. Packy was also one of the tallest elephants in the U.S., with a shoulder height of 10 feet 6 inches and overall height of more than 12 feet. Packy was euthanized after being diagnosed with drug-resistant tuberculosis.
Feb 10. Royal Delta. The 9-year old racehorse died from foaling complications.
Feb 13. Lucky Pulpit. The 16-year old racehorse died of a heart attack.
Feb 19. Charismatic. This 20-year-old 1999 Kentucky Derby and Preakness Stakes winner died of pelvic hemorrhage.
Feb 21. Long John. (2010 – February 21, 2017) The 6-year old Professional Bull Riders 2015 World Champion Bull became ill and died before surgery could be performed. Long John came in 50th in Time Magazine's 100 Most Influential Animals of 2016.
Feb 26 Cabral (2001 – 2017), also known as "JP", was a gold medalist dressage horse. He was also a Paralympic gold winner (2012). Cabral was 16 when he was put down after contracting a bacterial infection.
March
Mar 1 Kiki. Rainbolt Test Kitty and cover girl. This cutie appeared in Whole Cat Journal, Catnip and in numerous brochures and product labels. Kiki was euthanized March 1 likely from cancer at the age of 12. Originally Kiki was diagnosed with pancreatitis.
Mar 5. Vince. (22 September 2012 – 5 March 2017) 4-year-old Dutch-born southern white rhinoceros was shot by poachers inside a zoo near Paris, France.
April
April 14. Shepherd Hills Tested. (2008 – April 14, 2017) was the Professional Rodeo Cowboys Association (PRCA) bucking bull of the 2013. In 84 times out of the chute only four cowboys had qualified rides. He died from injuries sustained from an accident.
May 17. Unusual Heat. The 27-year-old American racehorse was euthanized.
May
May 22. Devil His Due was a 28-year-old American racehorse who was euthanized.
May 30 Sam. (7-26-2000 –  5-30-2017) Bottle baby turned acclaimed super model, feline/feline and feline/canine ambassador and all round sweet boy was euthanized one week before his 18th birthday as a result of likely lymphoma. This Rainbolt Test Kitty welcomed every new pet regardless of species by curling up with them on their first night.
June
June 7. Holy Bull. 26-year-old Thoroughbred racehorse who won the 1994 American Horse of the Year was euthanized.
June 27. Better Talk Now. 18-year-old racehorse, winner of the 2004 Breeders' Cup Turf was euthanized.
June 27. Toytown was a 12-year-old British event horse.
July
July 18. Racehorse, Ben's Cat, 11, was euthanized.
July 20. Pudsey. (28 December 2005 – 20 July 2017) A Border Collie-mix who won Britain's Got Talent and appeared in Pudsey: The Movie and Mr. Stink died of blood cancer at 11.
July 20. Xanda. The 6-year-old a son of Cecil the Lion (the beloved black-maned lion shot by hunters in 2016) was legally shot by trophy hunters in Zimbabwe.
July 21. Mayor Stubbs (1997 – 2017) the cat has been the honorary mayor of Talkeetna, Alaska since 1997. A political Independent, Stubbs was elected as a write-in candidate in 1997 because of an absence of human candidates. Like many in office, Stubbs had no real legislative power, which is probably why he always did well in the polls. His career had its ups and downs. He was near-fatally wounded by a neighborhood dog in 2013. Although it was touch and go, Stubbs recovered, but was worse for the wear. Before dabbling in politics, the mayor of Talkeetna was the manager of the town's Nagley's Store and West Rib Pub & Grill. The Mayor passed in his sleep from natural causes on July 21 at the age of 20 years and 3 months.
July 23. Snooty. (July 21, 1948 – July 23, 2017) The 69-year-old manatee mascot of Manatee County, Florida, and the first recorded manatee born in captivity, drowned.
July 27. Cena N641 was a 10-year old black Labrador retriever bomb detection dog in the US Marine Corps who served three tours of duty in Afghanistan.  After leaving the service he became a PTSD therapy dog for one of his Afghanistan handlers. He was euthanized after losing his battle with bone cancer.
August
Aug 9 Shady. This former stray was adopted as a kitten by a woman through Animal Allies of Texas. The woman declawed Shady, then adopted two rambunctious male cats (not declawed) who tormented her mercilessly. At the age of 4 she was returned to the organization declawed and weighing in at 22 pounds. She took up residence with Dusty and Weems and became Weems' "good buddy." She participated in a Hills Metabolic weight loss program and lost 6 pounds. Earlier this year Dusty discovered a tumor on her throat diagnosed as hemangiosarcoma. The mass was removed but returned.  Shady lost her battle with hemangiosarcoma at the age of 9.
Aug 7. Chantek, a male hybrid Sumatran/Bornean orangutan who learned American Sign Language died of heart disease at 39.
Aug 15. Kasatka. (1976 – August 15, 2017) Kasatka was an orca who lived at SeaWorld San Diego. She was euthanized after suffering untreatable pneumonia at 40.
September
Sept 13. Basi. (1980 – 13 September 2017) The world's oldest living panda died in China of cirrhosis and renal failure at 37.
Sept 15. Wiarton Willie III. Was a prognosticating 13-year-old albino Canadian groundhog from Wiarton in Ontario who predicted the time of spring's arrival every February 2, on Groundhog Day. Cause of death is unknown.
Sept 30 BK. This bottle baby came from Lewisville Animal Services with his three sibling at two weeks. Sick as a dog, BK suffered eye damage as a result of feline herpesvirus. Because of his health issues he became permanent Rainbolt Test Kitty. Despite being nearly blind, BK bullied even the largest feline housemate; 15-pound cats cowed in his presence. BK stood for Blind Kitty, Black Kitty, Bully Kitty, Boy Kitty, Baby Kitty. He was euthanized at the age of 12 because of an inoperable mass in his belly.
October
Oct 11. Jeremy was 2-year-old left-coiled sinistral garden snail with a rare genetic mutation that caused his shell to coil counterclockwise. He was discovered in southwest London. Cause of death is unknown.
Oct 12. Grape-kun. (April 16, 1996 – October 12, 2017) was a Humboldt penguin at Tobu Zoo located in Saitama Prefecture, Japan, who had fallen in love with a cutout of a character from Anime. He died at the age of 20, which officials said was the end of the Humboldt penguin lifespan.
Oct 14. Inside Information, a 26-year-old American racehorse.
November
Nov 7. Paddles. (2016 – 7 November 2017) The First Cat of New Zealand, a ginger and white polydactyl cat, owned by New Zealand Prime Minister Jacinda Ardern, was hit by a car.
Nov 12. Two cats listed in Guinness World Records died of smoke inhalation when their Farmington Hills, Michigan (near Detroit) home caught fire. Arcturus and Cygnus were reported missing and their bodies were found a month later in the basement. The owner tried to locate them during the blaze but emergency personnel forced him to vacate. Arcturus was the world's tallest domestic cat, measuring at about 19 inches, and Cygnus was the domestic cat with the world's longest tail, at more than 17 inches.
Nov 14. Little Mama (born between 1937 and 1942, died on November 14, 2017), an African-born chimpanzee was the oldest chimp on record. She died of kidney failure. Her age was estimated to be 79.
Nov 16. Gary the Goat. A comedic performing goat in Australia. Gary the Goat was euthanized at the age of 6 after being diagnosed with bleeding from an acute heart tumor. The body of Gary the Goat was taxidermied.
December
Dec 28 Bettie Bee. Janus (two-faced) kitten died of pneumonia when she was only 18 days old.
Who did I leave off? Tell me in the comments below.
About Dusty Rainbolt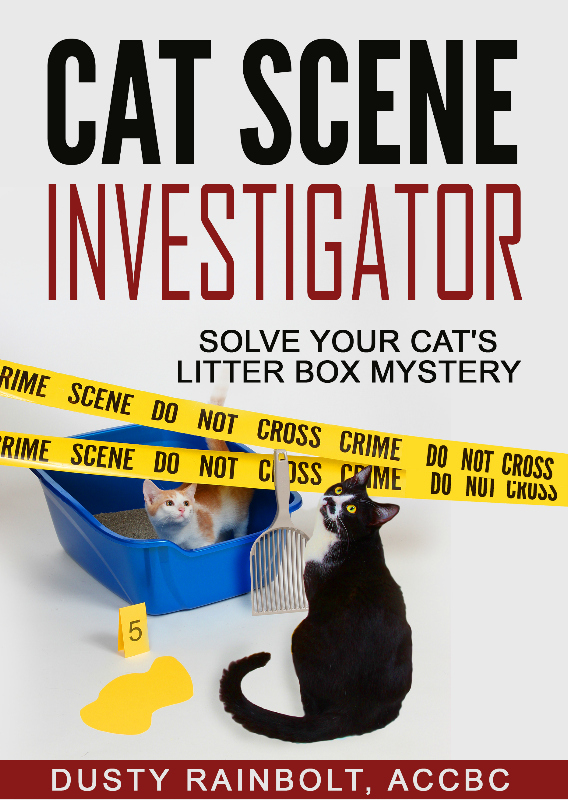 Author Dusty Rainbolt is an award-winning veterinary journalist according to her answering machine. She is an associate certified cat behavior consultant and member of International Association of Animal Behavior Consultants, as well as past president of the Cat Writers' Association. Her books, columns, reviews and articles have been honored with more than 50 writing awards including three-time recipient of Friskies Writer of the Year. Her just-released award-winning cat behavior book, Cat Scene Investigator: Solve Your Cat's Litter Box Mystery, is the consummate guide for dealing with a cat who sidesteps his/her appointed toilet. CSI, which provides science-based methods for determining the medical or behavioral causes of feline inappropriate elimination, teaches cat parents to view their cat's litter box avoidance through the eyes of a detective to determine the cause and, ultimately, the remedy.