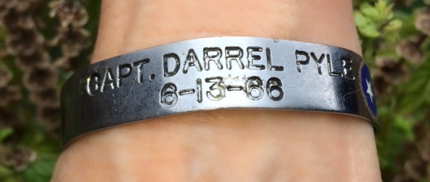 When I was in high school and the Vietnam War blazed, I ordered a POW bracelet to honor and  remember an American prisoner of war. It was a simple stainless steel strip engraved with a POWs name and the date he was captured. You were supposed to wear it until your guy came home.
My POW was a young pilot named Capt. Darrell Pyle who was held captive for seven years. Pyle was in the very first group of prisoners to be released on 12 Feb 1973. I placed a blue star sticker on my bracelet to indicate my POW had returned safely home.  I continued to wear Pyle's bracelet for several years to remember those who  were still missing in action.  I only removed when it I feared it would break in half from wear.
Although I never got to meet Darrel Pyle, I had the honor of interviewing another Hanoi Hilton alumni, Jerry Singleton, in 1995. During that interview I learned the real horror of what these brave people went though. Jerry informed me that Major Darrel Pyle died in an aviation accident less than two years after his release.
Rest in peace, Major Pyle. Thank you for your sacrifice. And thank you Jerry Singleton. We are grateful.
PowerNetwork.org says about Pyle's capture: "On June 13, 1966, while on an armed reconnaissance mission in the southern part of North Vietnam, the F4C Phantom fighter bomber was hit by anti-aircraft fire and became uncontrollable. Both ejected, but Lurie ejected from low altitude (about 350 feet at 450 knots), and sustained a compression fracture of the spine. The DRV used Plye, the Systems Operator and Lurie as a traveling show until 29 June when they arrived in Hanoi and were thrown into Hoa Lo prison, more commonly known as the Hanoi Hilton.\r\n\r\nThe day was February 12, 1973. The location was Gia Lam Airport, North Vietnam.
The sky was broken to overcast and the air was chilled by the winds which swept down from China. I sat in a bus beside a bombed-out hangar and watched a plane taxiing toward the runway. The plane was a 141 and had big letters which said, "UNITED STATES AIR FORCE." I was crying. Before the plane could take off another 141 broke through the overcast and roared over my head. My plane – my chariot had come to take me home.
Sadly Darell Pyle was killed in a plane crash in Alaska only a year-and-a-half after he returned home. Here's the account of his tragic death less than two years later in the Anchorage Times, 29 Dec 1974
"27 Dec 1974: Maj Darrell Pyle died when his Piper PA-18 crashed around noon at Six Mile Lake, Elmendorf AFB. His nine year old son, Philip, survived with minor injuries."
The fuel tank in the plane ruptured on impact causing minor fires. Major Pyle was recovered from the wreckage and taken to the Elmendorf AFB Hospital where he died of injuries sustained in the crash. His son was treated for cuts and bruises and released.
"He was born on 24 April 1940 in Long Beach, CA; graduated from Compton High School, Compton, CA, in 1958; and the University of Arizona and joined the Air Force in 1963.\r\nHe had rowed down the Amazon River and spent time in the jungles of Ecuador. While in captivity, he dream ed of coming to Alaska.
"He was assigned to the 43rd Tactical Fighter Squadron as an F-4E pilot. Major Pyle had been awarded the Legion of Merit, the Silver Star with oak leaf cluster, the Bronze Star with V device with oak lead cluster and a second oak leaf cluster to the Air Force Commendation Medal. He was cited for his resistance to more than 40 days of extreme physical and mental torture. He had written a book about his POW experiences. The publisher, however, wanted more details on his torture, which he did not want to go into again, and it was never published. The 3rd Wing Headquarters Building is named after Major Pyle.
If you are interested in more information on heroic Major Pyle, visit TogetherWeServed.com,
+