Independence Day Cat Safety
Almost everyone loves the Fourth of July! Who doesn't look forward to all the patriotism, picnics, barbecue, beer and fireworks? Cat Safety
Unfortunately your cat doesn't share your enthusiasm for the July 4th celebration. Our pets have a whole different perspective. What we love most about the holiday, the fabulous fireworks and neighborhood firecrackers, may seem to cats and dogs like the alien invasion from science fiction movie, Independence Day, where humans (and pets) once again face a violent and noisy end of the world. It's up to you to pay attention to cat safety and keep your kitty calm and safe on Independence Day and out of claws of hostile aliens.
Cats and Dogs Invade Animal Shelters
Staff at animal shelters across the country also brace themselves for an Independence Day invasion. Not an invasion of killer crabs or shape shifters Martians, but panicky pooches and pusses who disappeared fleeing the noise.
With all the chaos occurring over the holiday weekend, it shouldn't be surprising that more pets disappear around the July 4th holiday than any other time of year, even Halloween. Loud noises from fireworks may sound like thunder or an explosion to terrified pets—so frightening so they bolt from the yard to escape the perceived threat. According to the American Animal Hospital Association, July 5 is the busiest day of the year for animal shelters. Animal shelters across the country actually report a 30 percent increase in lost pets reported between July 4 and July 6. Sadly, only 14 percent of those pets ever return to their families.
In addition to explosions and party chaos, wandering pets can fall prey to malicious lowlife. Nine years ago, Zeki, a kitten from Dallas, almost became one of those tragic statistics. Abandoned when her family moved away, she was captured on July 4th by some wacko and mutilated with a hunting knife. Zeki survived and was rescued and eventually found a loving home, but many panicked pets fleeing the flashes and kabooms disappear without a trace.
July 4th Cat Safety Tips
Regardless of your Independence Day plans, keep your pets safe and happy by taking seven simple precautions:
Make sure pets wear ID, even indoor pets. However, collars and tags can become lost. In addition to name tags, microchip your cat and keep your contact information current with the microchip registry. In the event your cat and his tags go AWOL, a microchip will give him his last best hope of returning home.
Before the weekend arrives, bring your outside cats inside so they can't run away in a panic.
During parties and firework displays, put cats in a calm a bathroom or other escape-proof room. A frightened cat allowed to wander the house may dart out of the door to escape the pandemonium. Set out food and water bowls, litter box and favorite toys. Put a "Do Not Enter" sign on the door to prevent guests from accidentally releasing the kraken (kitty.) Keep pets inside the entire weekend just to be safe.
Use pheromone products that mimic the cat's own friendly pheromones. Synthetic pheromones such as Comfort Zone® with Feliway®, Comfort Zone® with Feliway® Multicat, and Sentry Calming Spray for Cats and the Sentry Calming Collar may help your cat cope more effectively with loud noises, house guests and other stressful situations.
Play soothing music, white noise or cat videos to mask the sound of fireworks. Even better, offer music specifically composed or arranged to calm kitties such as Music For Cats or Through a Cat's Ear. Start the sound therapy before the guests arrive or the fireworks start.
Calming vests. Swaddling apparel such as a Thundershirt or CalmCat shirt may reduce anxiety in cats.
Take action immediately if your cat goes missing. As soon as you realize your cat can't be found, contact your local animal control facility and your cat's microchip registry. Put up lost cat flyers. Always visit the animal shelter and eyeball all the cats. The person taking your report may not make the connection between your cat and your description of your cat.
Did we leave anything out? Have you lost a cat over the Fourth of July? Tell us about it in the comment section below.
About Dusty Rainbolt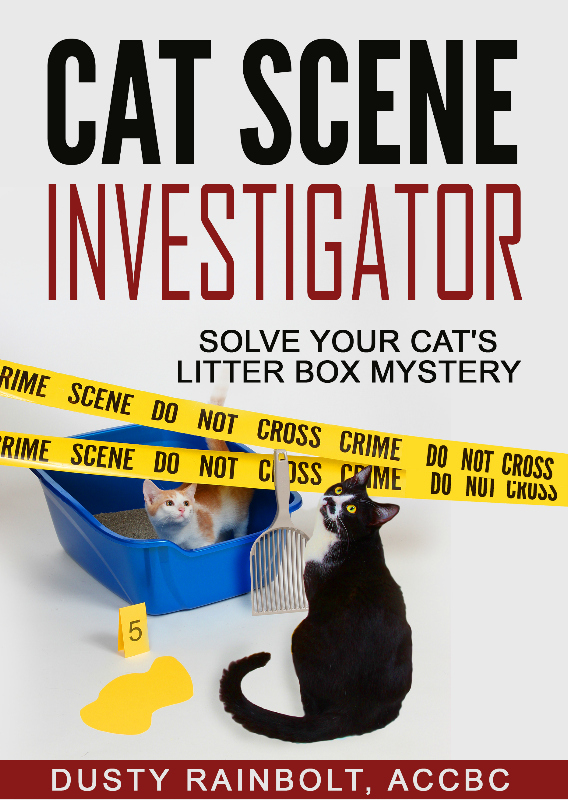 Author Dusty Rainbolt is an award-winning veterinary journalist according to her answering machine. She is an associate certified cat behavior consultant and member of International Association of Animal Behavior Consultants, as well as past president of the Cat Writers' Association. Her books, columns, reviews and articles have been honored with more than 50 writing awards including three-time recipient of Friskies Writer of the Year. Her just-released award-winning cat behavior book, Cat Scene Investigator: Solve Your Cat's Litter Box Mystery, is the consummate guide for dealing with a cat who sidesteps his/her appointed toilet. CSI, which provides science-based methods for determining the medical or behavioral causes of feline inappropriate elimination, teaches cat parents to view their cat's litter box avoidance through the eyes of a detective to determine the cause and, ultimately, the remedy.

Copyright secured by Digiprove © 2017 Dusty Rainbolt